Research and Development
EZN has been busy in the professional technology research and development since 1981. Graduate engineers from the fields of mechanical engineering, electrical engineering, construction, horticulture and process engineering have established a competent network together with cooperation partners of enterprises und universities. Professional project management protects from "trial and error". Each step has to be part of a well-considered strategy when it comes to development and marketing of new technologies. Many of the technologies developed and supported by EZN have been successfully set up on international markets.
In the field of new technologies, EZN´s portfolio includes many innovative products and procedures.
WASADI – ECO-Friendly Water Disinfection
EZN offers its unique WASADI process, a new clean technology for producing aqueous chlorine dioxide solutions. The environmentally friendly WASADI process produces chlorine dioxide solutions using only water, salt and air – without any further chemicals. It can be used for disinfecting water, water pipes, cooling towers etc.
State of the art technologies have the following disadvantages: some technologies are using electrolysis with saltwater solutions to generate chlorine for water disinfecting, which is less efficient than chlorine dioxide.
Other processes are using hazardous substances like sodium chloride and acids to generate chlorine dioxide in a reactor with high pressure and concentrations (danger of explosion).
Our new technology has a number of decisive advantages. The innovative technology is cost-effective and has the highest efficiency:
The new technology requires no further substances than water, salt and air
The innovative and environmentally friendly technology replaces previous processes for the conventional production of chlorine dioxide with chemicals
No safety risks due to controllable temperatures and pressures at ambient level
Abstinence of chemicals (hazardous substances)
This eliminates the need for compliance with regulations on the transport, storage and application of hazardous substances
Continuous process, easy handling and safe operation
Direct usable chlorine dioxide concentration of 1 to 4 g/l
Development and implementation of a new EZN patent management
Supported by the European Regional Development Fund, EZN has developed its own process for user-oriented invention and patent management. With regard to the digitization of processes, a new process was developed that meets the high requirements for confidentiality and security in the invention and patent system. The results could be easily integrated into EZN's daily operations. The new, more efficient process means that companies, universities, start-ups, private inventors and investors can be made attractive offers with additional services. The new system solution also provides the basis for future developments.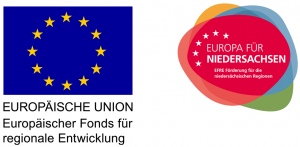 New process and plant technology to remove deposits in wells, raw water pipes and filters and to prevent clogging
Wells for extracting groundwater are subject to natural aging – this leads to a reduction in performance. Over time, chemical and biological processes form deposits in the well and its surrounding, which increasingly impede the flow of groundwater. According to the project partner BPS Brunnen- und Pumpenservice Celle GmbH, 2,000 to 3,000 wells in Northern Germany are clogged and have to be regenerated every four to five years. A regeneration is associated with costs of several thousand euros. Building a new well costs tens of thousands of euros.
In a cooperation project funded by the BMWi, EZN and its project partners developed a new method for avoiding clogging in wells and an in situ process for generating a suitable agent. The clogging process could be prevented by producing an oxidant system in-situ directly at the well, which contains oxygen species such as oxygen ions, hydroxide ions, hydrogen peroxide and ozone. Due to their effect, already existing clogging or deposits in the filter area of the well could be completely removed and the formation of new clogging could be prevented.
The newly developed technology is suitable for preventing clogging and for removing iron and manganese oxide deposits in wells, in raw water pipes and filters.
Our Knowledge is Your Benefit
EZN´s engineers with their cooperation partners create implementation concepts and well-founded project sketches and generate strategies for technical and economic solutions. We support research and development co-operations and evaluate innovative projects and companies.